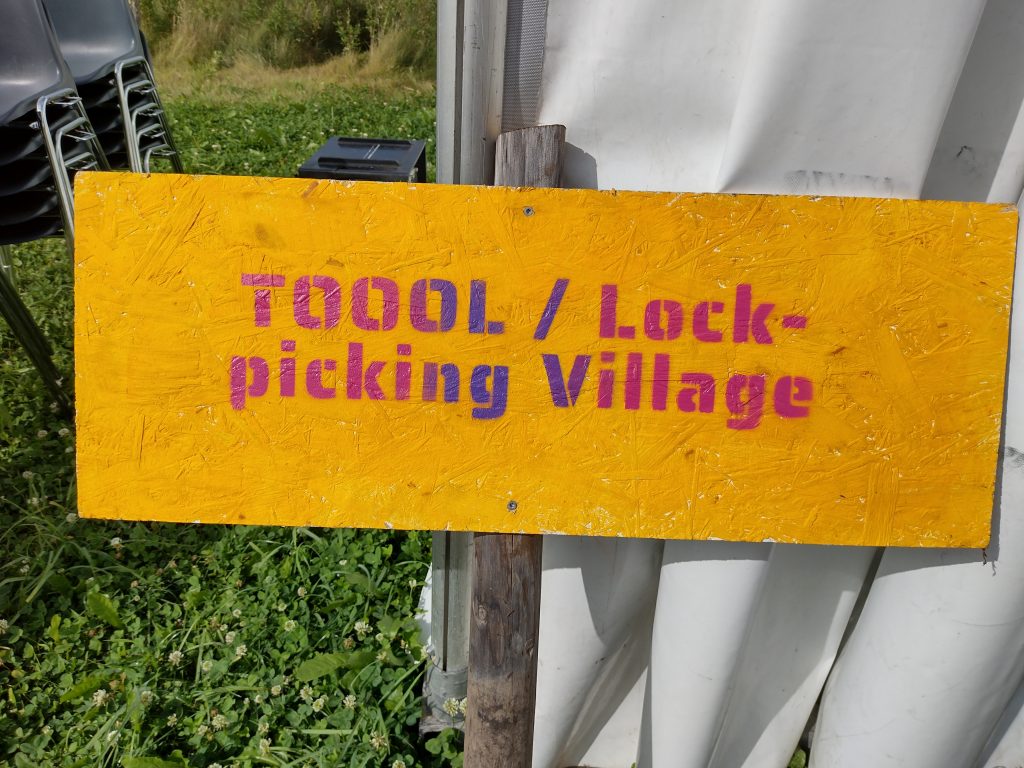 In the summer of 2022, the Dutch hacker community gathered at the May Contain Hackers conference. The conference was amazing, with over a dozen simultaneous tracks with topics ranging from electronics, privacy and internet security, to art and technology. The program is published at https://program.mch2022.org/ and the talks are published on https://media.ccc.de/c/MCH2022.

For Lockpicking content, Toool organized a lockpicking village, The MCH CTF included lockpicking challenges, and plenty of exciting talks are given. Including Introduction to lockpicking and safe cracking, Anker 3800 Magnetic lock, and bumping electronic locks! More on these after a photo impression of MCH.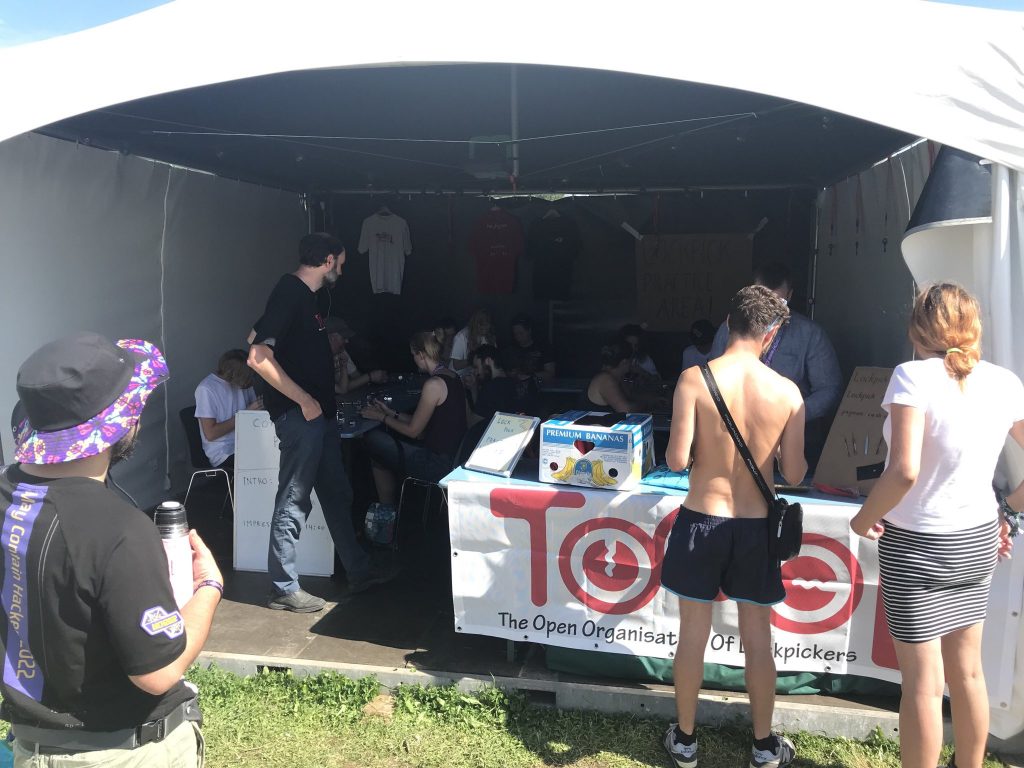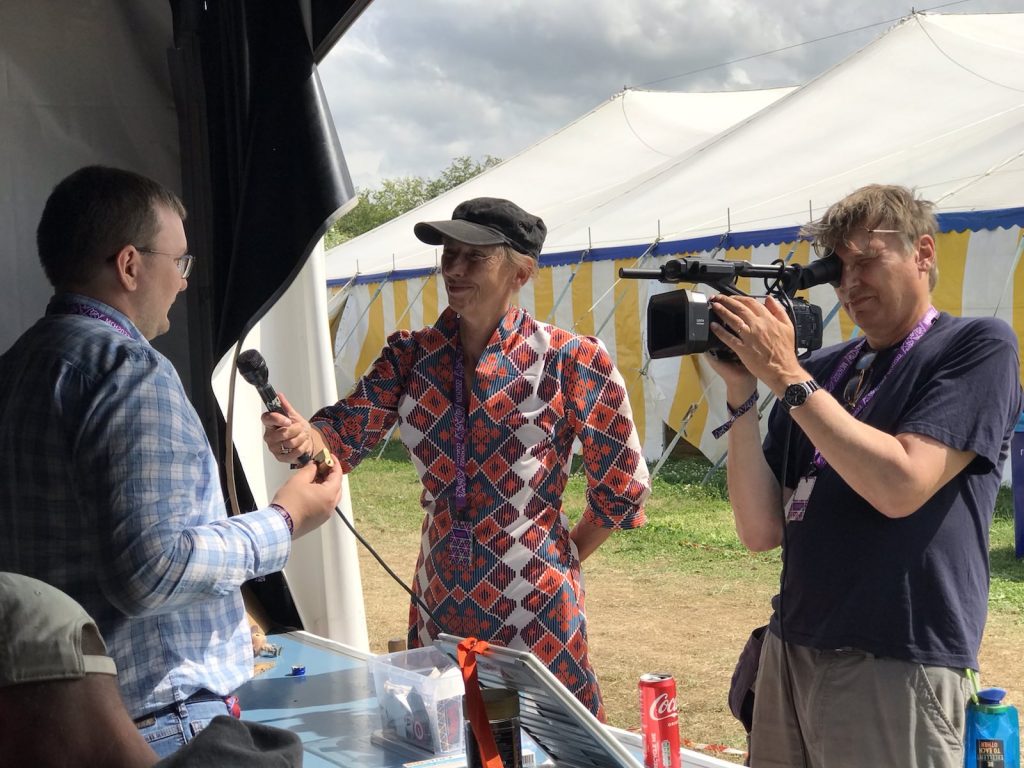 Jan-Willem presented an introduction to lockpicking and safe lock manipulation.
Talk description from the MCH schedule: Most security implementations leak information, mechanical security is no different. It takes sharp eyes, a soft touch, and a good hearing to distinguish between information and noise. In this talk we will go in depth on how locks works, and how we can persuade them to disclose their secrets, and open them without damage.
The Open Organization of Lockpickers (Toool) is a group of nerds obsessed with mechanical security. We create, collect, take apart, discuss, and attempt to defeat locks. While we are known for lockpicking, there are many other techniques for opening locks without damage.
This talk will focus on the language of the locks, the side channels in mechanical security systems. We will start with binding order, the mechanism to isolate the locking elements, and exploit them one by one. Then we will discuss a wide variety of other methods of gathering information and opening locks. Most of these methods are not practical, but working them out gives us great joy, and we would like to share the highlights with you.
Walter presented his research of the Anker 3800 magnetic lock. It includes deriving master keyed systems, designing an electronic key/lock decoder, and 3D printing keys.
Talk description from the MCH schedule: The Anker 3800 is a mechanical lock that has both traditional pins as well as magnetic sliders. Can it be opened without the key? This talk discusses how the lock works in a master keyed system and how it can possibly be defeated. It will cover decoding, picking and key duplication.
The Anker 3800 is a mechanical lock that has both traditional pins as well as magnetic sliders. It was designed by Japanese company MIWA and is sold in the Netherlands under the Anker brand. It is a high security lock that is often used in large master keyed systems.
I wondered: can it be opened without the key? I will present my adventures with the lock, having opened it up to see how it works, and several things I have tried to copy the key, pick the lock, decode the lock and find out what the master key looks like. The talk will include successes and failures and I will discuss designing 3D models, C&C work, electronics, Arduino programming, PCB design, and more.
The talk is aimed at people with an interest in lockpicking. No prior knowledge is necessary.
The write-up is found at https://blackbag.toool.nl/?p=3907
mh shared his research on bumping electronic locks. As in, opening the electronic locks by using a percussion drill and custom attachment.
Talk description from the MCH schedule: Modern electronic locks are often optimized for cost, not security. Or their manufacturers don't do security research. Or they ignore it. For whatever reason, many current electronic lock systems are susceptible to surprisingly simple attacks. We'll look at some of them, and at the underlying basics, so that you can do your own research.
In this talk, we look at a number of modern electronic locks and their security flaws. Surprisingly many current systems are susceptible to very simple attacks, like the equivalent of using bump keys. Of course, there are electronic and/or SW-based attacks, too.
We'll look at some of them, and at the underlying basics, so that you can do your own research.
Some of the problems have been fixed by manufacturers, but typically only for future production runs, so you will get some practical advice on how to test your own hardware for these critical flaws.
Jan-Willem presented a basic introduction to threat modeling and uses puzzles as an example.
Talk description from the MCH schedule: Mechanical locks are everywhere and come in all shapes and flavors. But choosing the right lock can be rather difficult. For example, what is better? A lock that is hard to pick, or a lock with hard to duplicate keys. This talk will not give you the answers, but it will help you understand the trade-offs. Furthermore, we will have fun threat modeling our locks.
Is lockpicking a threat you should be concerned about, or is the brick the tool you should care for? Jan-Willem, from The Open Organization of Lockpickers (Toool), will share his ideas on mechanical security and threat modeling. We will make it fun and use several case studies, starting with defining a lock, threat modeling mechanical puzzles, and use several case studies where the threat was overrated. Simply put, attacks against locks range from the trivial to mastery. I'll share multiple failed attempts of attacks that should be trivial, but were not in practice, and we will analyze them together.