Another mystery solved. Regular visitors of this weblog might remember
I mentioned something about the police investigating a 'burglary
tool'. They had no clue what it was or could be, and asked lots and
lots of people in the lock industry. And many of them asked me.
I am sure we would have had hours of fun speculating what it could be in
Sneek at the Dutch Open today. But Eric spoiled the fun and mailed the
answer. Thanks Eric!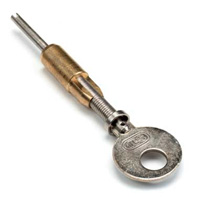 Here a picture of the mystery object. If you want to find out what it
is click here, or read the comments.