I think by now we all know what an enigma cipher machine is. After all
it is the star in many war movies and a classic in cryptography.
And now I finally know what type of lock it was equipped with. I think
it is quite ironical the German device was locked with a UK chubb lock.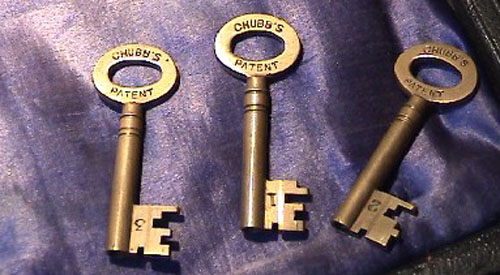 The lock itself is a piece of art. It can be re-keyed on the fly. Just
open the lock with it's key, and close it with a new key. Now only the
new key can open the lock. Simple and elegant. A pure brilliant design.
Look at the video clip to see a cutaway model of the lock in action.
* UPDATE: Oli mails there is a misunderstanding. It is not an Enigma lock after all …
> The guy from chubb told, that this lock was used by UK government to store
> high security stuff as the enigma machine, which was taken from one german
> submarine by the UK military.
> Sorry for my bad explanation in Hamburg, but that should be corrected –
** Update 04/08 we finally had our hands on a real enigma and opened the lock!