I am in pure ecstasy at the moment! It is a rush I only had a few
times before. Bumping a wide variety of locks for the first time was
one of them. The other rushed I can not disclose on this public forum …
But seriously, I am still a little in shock too.
This weekend I did my first serious attempt to impression an Abus lock.
Looking at the book and the marks on the key I knew I was on the right track.
But I did not open the lock…
Monday Paul Crouwel and myself went to Hamburg to meet with Oliver Diederichsen.
We had a nice meeting with him and besides a private impression workshop he did
show us lots of nice things. I shot quite some video, so make sure to check
blackbag regularly these days to come. You will enjoy it … that is a promise!
When I came home from work today I stopped at a shop and bought a nice
magnifying lamp. It is a valuable tool when impressioning locks.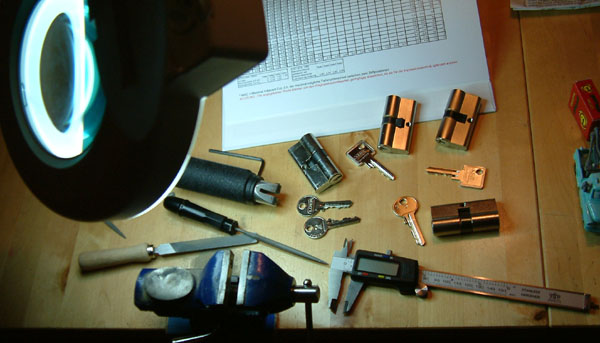 Right after dinner I started… my goal was to open at least one lock!
My first try was immediately successful! Within ten minutes the first
Abus opened! The marks were so clear and obvious, I could not believe it.
And still I can not believe it 😉
Second was another Abus, one I did know what the key looked like a
bit. I vaguely remembered it had some 'high low high' combination but
I tried not to think about that too much. I focused on the marks and
when I got somewhere the key broke 'half way'. Filing the remaining
marks on the key did not open the lock.
Because the key was very fragile I had to try something else. So instead of
moving the key up and down, I moved the key in and out, making horizontal marks
instead of pointed marks. I could clearly see the long-marks and filed two more
rounds. The next time I pulled the key in and out, the lock opened!
So I had a score of two out of two! It was time to put the kids to bed.

When I finished that 'job' I optimisticly started digging trough my collection for
other locks with the correct blank. I could only find a Corbin … brrr …
Unfortunately the depths of Corbin are not in the book so I had to file in
much smaller steps. The first key I tried I went too deep to fast. But the
second key I remained my focus and … succeeded in opening the lock!
This was the ultimate rush. Unknown depth steps and still success.
Last but not least I found a CES lock and blank. Again I used the book
for depth measurements. It also opened the first try.
In two hours time I opened four locks using only five blanks, and put
the kids to bed too. Now siting at my couch thinking it all over.
I only hope it is not a dream … it feels a little like it!
Tomorrow is the Toool Amsterdam meeting. I will bring some impressioning
materials so members can try it themselves.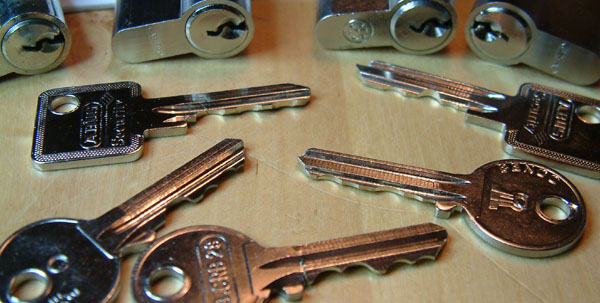 Update 01:25 am : Back to earth. Tired and off to bed. Tried to open a DOM lock without success ….