Oliver Diederichsen outdone himself on his book 'Impressionstechnik' (English: impressioning).

It sounds like magic: the expert wiggles a blank key into a lock,
takes it out and examines it, files a bit off the key, wiggles it
again in the lock and repeats these steps till the key turns and opens
the lock. For real experts times under ten minutes are common.
Oliver Diederichsen's books explains how this is achieved. And if
anyone knows about this way to open locks (called impressioning) it is Oli.
After all he is the German impressioning champion of 2005. In under
7 minutes he created a perfect fitting key from scratch to open an
Abus 5 pin lock.
But besides being an impressioning master, Oli also has another skill.
He is a great teacher, especially when it comes to lock opening techniques.
To me it seems the only reason he did not become German impression
champion 2006 was because he gave a small workshop together with Dr.
Manfred Boelker one day before the event. Some Ssdev and Toool members
were introduced to the fine art of impressioning with the material
(images) that led to this book. Amongst the interested crowd was Ssdev
member Peter Danilov.
Peter just learned about impressioning that day … one day before the
championships. The next day he entered the championship 'for the fun
of it' and won in a devastating time of 5:35! Oli became second in
little over ten minutes. Beaten by his own success …
To me this proves Oli knows how to teach, and for all of us it is
a big motivation to see people can become champions with the correct
instructions and training. And of course a little luck …
Oli's book gives you these instructions and reveals there is no magic
involved in impressioning. It will teach you what materials to select
and how to use them, the pitfalls you can (and will) run into and the
"do and do-not's" of impressioning.
What I really like about the book is that it covers new ground. Many
people in the security field know more or less pin tumbler and lever
locks can be opened this way. But did you know dimple locks and even
laser track car locks can be opened like this? Step by step Oli covers all
of these locks in detail, and many, many more.

The book is filled with the most clear and beautiful high resolution
images on this subject I have ever seen. I counted close to two
hundred of them, not including schematics or drawings. And that is
what this book is all about, details that make the difference. This
also counts for the chapter Manfred Goth wrote about forensic traces
left by impressioning. The electron microscope images reveal what the
naked eye can not see. Fascinating material!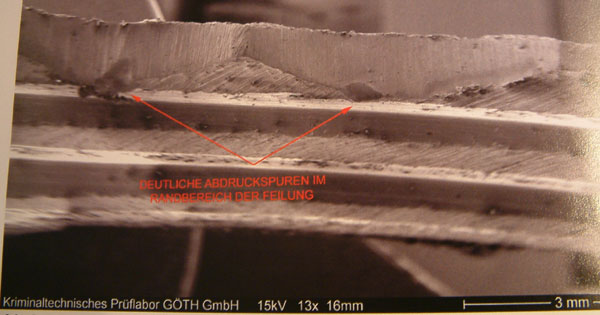 Oli explained me that printing in black and white would have made this
book much cheaper. But being the perfectionist he is, he had the
book printed in full color. That is why the price of 79 euro might
seem a little steep. But if you want to learn about this technique it
is worth every penny. And who knows, you might even become the 2007
champion …
It got me motivated to learn more, I think I will give it a try this weekend.
To be continued …. (and no, I do not get commission from Oli, it is just a cool book)