And a very nice one too. Well, it is not actually a safe, it's a secure
storage container. The US military uses them to store sensitive
documents and goods inside their facilities. The main objective of
this container is to make surreptitious entry as difficult as
possible. Therefore it is equipped with a sargent & greenleaf 8550
'manipulation proof' lock. The lock is protected from all four sides
by special 'hardplate' metal to prevent people drilling the lock.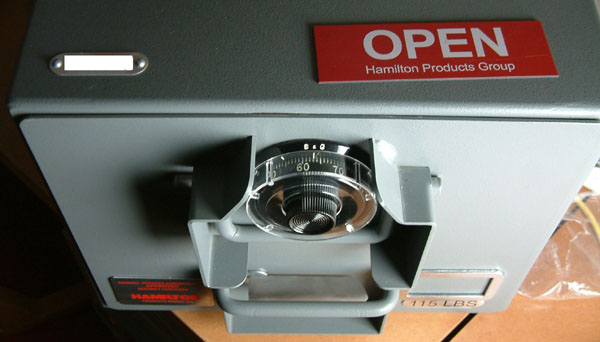 A nice metal plate on the side of the drawer gives all the details of
what else this container is secure against. And there is nice sheet of paper with
schematics and part numbers on the inside of the locking mechanism.
The safe comes with a magnetic sticker that on one side says 'OPEN'
and on the other side 'CLOSED'. This is so the operator of the safe
can see in one view if a safe is closed or open (duh).
I tried googling around for this model for 15 minutes or so an could
not find it online.
There are some things that are not clear yet. For example, the
container comes with a transparent plastic cover to put over the dial.
Is this to protect the dial against dust? Or is there another purpose?

And on the front of the container the weight is noted in big letters.
Is this because it is used in an environment where balance is
important? Like an airplane or submarine? Again, we don't know.
But I thank good old Santa for his nice present!
Feedback of readers is of course very welcome …