Lambert, a Toool Eindhoven member, was kind enough to send me a DVD
with the German RTL item I announced but missed myself. It covers some
interesting car opening techniques. One of them is decoding a brand
new BWM X3. I also demonstrated this German tool at hope number six. I
assume most of you missed that presentation so I combined some video
and mixed in some fresh close ups from the tool. See for yourself:
 http://blackbag.toool.nl/video/bmw.wmv (WMV 76 Mb )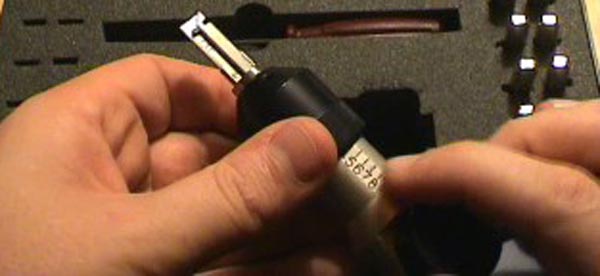 The problem with these wafer locks is that they have sloppy
tolerances. Theoretical each individual lever could be in four
different positions. If this really was the case all eight levers in
the lock would create a keyspace of 65.536 possible keys. The big
weakness is that if you cut a key to 'one and a half' it will open
both a 1 and a 2 cut. And a key cut to 'three and a half' will open
both levers 3 and 4. So instead of four combinations we now have only
two, limiting the total keyspace to a lousy 256 possible keys. To make
things worse each side of the key will only operate four levers
instead of eight. Normally four levers would be good for 256 different
combinations but now that is reduced to 16. This is why it is possible
to have a set of 16 setup keys simulate all key combinations possible
on this specific BMW lock.