Testing is fun. Especially testing locks and tools. And it is even
more fun when people claim locks can not be opened and you show it can
be done. Without damaging the locks of course.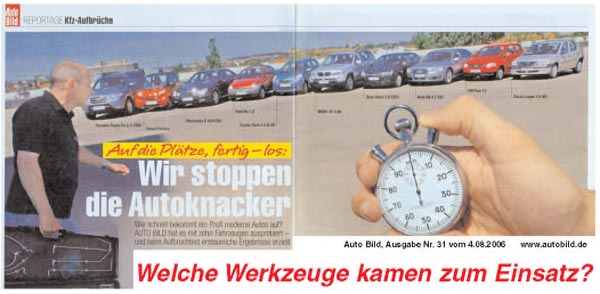 I received a mailing (PDF) from the Wendt lock tools company in Germany. As
far as I know they are the biggest and most complete lock opening tool
supplier in Europe (in the world?). I try to visit their yearly 'open
house' meeting as often as I can. Walking around there and looking at
all these magnificent tools is always a great pleasure. And their catalog (PDF) is a 'must read'.

They supplied tools and expertise for a big test on cars and car locks
for the famous Auto Bild magazine in Germany. My German is a little
rusty, but here is a rough translation from part of the mailing Wendt send
around a couple of days ago:
"together with us Auto Bild tested in what time modern cars could be
'hacked open'. The challenge was to open the cars free of damage. We will
not give the exact details of the test but on ten tested models the
results where rather shocking."

I do need to get my hand on this magazine of course. So stay tuned for
a scan. (update 17:00 the magazine was sold out, will try other ways)
An for the people in Europe: an item on German television about this test will be aired Sunday.
To be more precise: Sunday 20.08.06, RTL, SPIEGEL-TV Magazin 22:35