The new NDE magazine is out. For the real die-hards nothing new, it has been out for a few days now.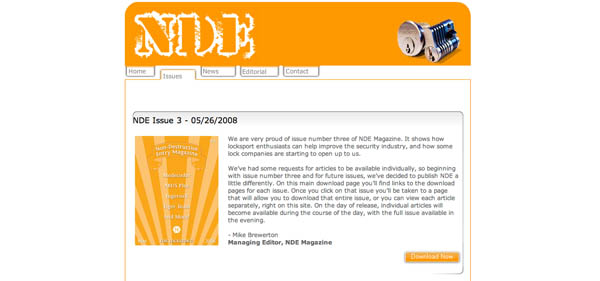 But it is good to see the quality of the magazine getting better and better with each new number coming out. And it gives me a god feeling to see Schuyler doing so well. He came up with a crazy idea (NDE magazine) and instead of just talking about it simply executed his plan. And it seems he was able to find the right people to support him. I am curious where this will go to as it has the potential to get really big (with locksport getting big aswell). It brings back memories from a time I was involved in a small magazine that had trouble getting new numbers out in time ….
I surely enjoyed reading the 'Medecoder' story, and the tension they are building up, not to mention the fact Medeco is changing their production because of it. Something very special has been achieved with that! And to finally see Jaakko Fagerlund's exploit against Abus Plus series out in the open. The rest you will have to read yourelf, but it is a must read for visitors of this blog.
On a personal level: I am done writing long pieces of text under time pressure. First there was the deadline on the foreword of Marc Tobias his book, and on Saturday I finally completed the article for 2600 magazine. The article came out nice, and is an introduction to my presentation at the 'final hope' conference that will be about "high security key duplication".