I was in good old Sneek last weekend. Gea was celebrating her
fortieth birthday and we had lots of fun. It was already late when a
good friend joined the party. He is a locksmith who's name I will not
mention…
He was complaining to have sat on his knees for two hours, desperately
trying to pick the lock of a … wheelcap! It seems Rolls Royce
wheelcaps are popular amongst collectors and thieves, and Rolls Royce
decided to put a semi-serious lock on them. And the owner of the Rolls
lost his keys, calling my poor friend to help.

The locksmith found out the hard way it was not easy to pick. I even
had difficulties with it when the cap was on the table. The sad part
is he agreed a low price before picking the lock, since the owner was
not willing to spend any money on it. Typical behavior of rich people
(but that is another story).

The poor locksmith never thought it would take him two hours to open
that silly little lock. When he opened it, he took it back to his
shop to make a key to open the other three wheelcaps. He will try
impressioning, and if that does not work he will disassemble the lock.
When my friend told the story I asked him to get the wheelcap from his
van to make some pictures for this weblog. At the time I thought it
was a great story. When I woke up the next morning (afternoon) I had
an headache and was less enthusiast about this 'great story for the blog'.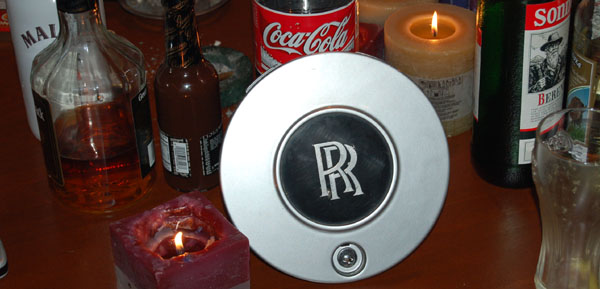 I hope you still find it an entertaining story and like the pictures….