"Hello my name is Peter, I am 9 year old and I have bumped open allllll
these locks. And now I am going to bump open this Mul-T-Lock(*), really
high security, bypass this combination lock and rake this Yale lock, 6 pins."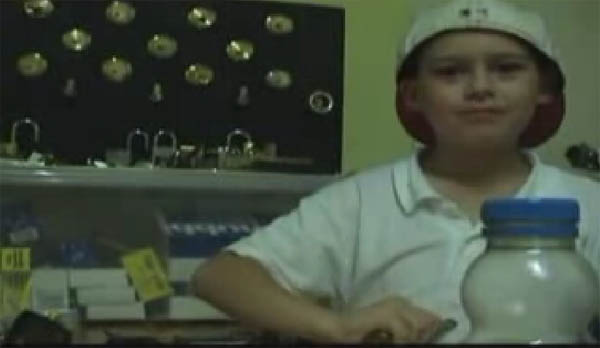 The video takes less then three minutes and is adorable and entertaining.
To be honest I do not know how genuine this video is. It looks right, but I
have never seen a Mul-T-Lock opened with the 'pull one click back method'.
I don't think it is a hoax, but you can not be too careful these days.
Martin, Peter's dad, mailed me: Peter started picking and bumping after
watching bumping revisited, he has been doing it for a year now. I have
supply him with his bump keys and he brought his pick set. He can open
locks better than me sometimes a natural,his first lock was a yale
front door lock and his latest is the 7 pin multi t lock.
http://video.google.co.uk/videoplay?docid=5145437642005440092&q=lock+picking
(*) update 25/10: As you can read in the comments I was right, it was not a Mul-T-lock.
However, footage is available where little Peter bumps open and bypasses a 7X7 Mul-T-Lock:
http://video.google.co.uk/videoplay?docid=-8278930360889092448&pr=goog-sl