Todays posting is a little longer as usual.
Yesterday was a good day. Together with Han, Paul and Annette I
visited the security show in Essen. I think I could fill this blog for
weeks and weeks writing about what I saw there. Unfortunately I do
not have time for that, so here are some highlights.
 
For about 10K euro you can get yourself a nice video helicopter. This
device weighs less then a kilo and can stay in the air 25 minutes. All
four rotors are stabilized and the device is relatively silent. The
demo was impressive and you could see what the helicopter sees on the
big tv screen at the back. I am waiting to get one of these till the
price drops a little.

 
We have also seen some bump key tools and demos. Unfortunately the
quality was very poor. This includes a hammer that was on display. The
hammer is way to heavy and could be considered an illegal weapon if
you ask me. Damaging of keys and locks almost guaranteed. The design
was not well thought off and development was done by someone with
obviously no experience in the field of bumping. It was supposed to
have 'swing', but the material was pretty easy to bend.

Visiting the Wendt booth is always worthwhile. We had to squeeze in
because lots of people are attracted by the tools and knowledge of
this booth. I did manage to make some pictures of the most interesting
displays, but only managed to cover 25% orso. So you will have to
visit the show yourself if you want to see the rest.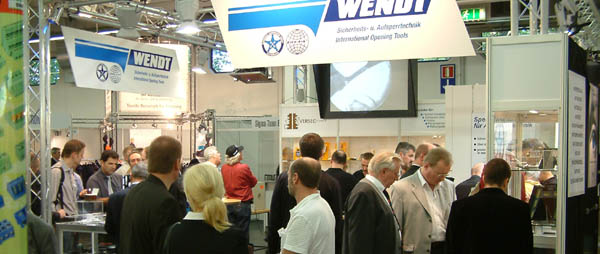 The displays are filled with tools, sometimes for locks I have never
heard of. And there was lots of focus on safes and safe opening. One
of their experts showed his special scopes, and the video of that
scope was projected on a big screen (see middle of image above)

 
I also like the relatively simple things like this 'setup key' for a safe lock.
The levers are pushed up by the small screws, and with a little screw
driver you can set every combination. Simple yet elegant.


And last but not least we visited the semi-private presentation room.
Steffen Wernéry showed to be a talented speaker who introduced his
audience to the wonderful world of locks and security flaws. He
covered a wide range of topics, from lock basics, to picking and
bumping. Steffens presentation was sparkling and the audience liked
it. This also goes for the free 'flipper card' he gave each and every
one of them.

I can advice everyone to visit this show. Make sure you have enough
time since it is truly huge. It will be on today and tomorrow.
I did upload some images I shot in Essen on the following address:
http://toool.nl/security-2006.zip (20 Mb, 41 images)