Traditionally Rob Zomer and Paul Crouwel organize a "safe opening weekend" every year. And this year is no exception. On March 20,21 and 22, they will (assisted by a group of other experts) try to open some of the 33 locked bank safes that were collected over the year and are waiting to be opened on a terrain in Haarlem (NL).
The 'safe opening weekend' is a very internationally oriented event and this year people from the US, France, Spain, Germany and the UK have shown interest in attending.
Even though we have a relatively large group of people working the safes, it will most likely not be possible to open all 33 safes in one weekend. Some safes on the top of the list are a martens rosengrens and a couple of Lips bank safes (like a Lips Europlanet, LIPS VS and Lips TAR).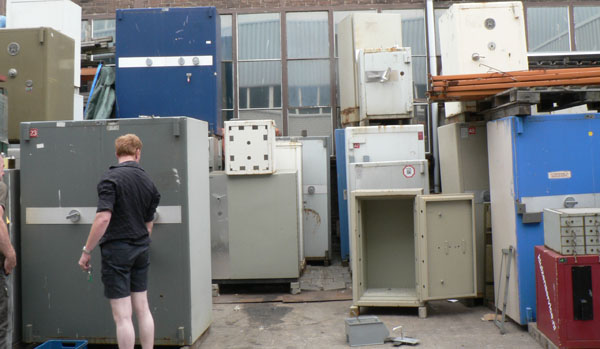 In the previous events the main focus was to drill the safes open. This year the focus will shift a bit to picking and decoding the locks, as well as trying a really unique tool that will hopefully open a high grade 'unpickable' safe lock…
We will also finally try to fully disassemble the 'Russian lock'. This extremely rare and special lock had been analyzed quite far, yet one part still remains a mystery. Hopefully we can fully take it apart this time and get it to reveal the last secret part. I will do my best to capture it on video …
The 'safe opening weekend' is meant for safe technicians all over the globe to learn from each other. If you are a safe tech (preferably SAVTA member) and want to attend this event, please mail Paul Crouwel (crouwel@xs4all.nl). If you are allowed in, the fee for the weekend is 60 euro (for food and drinks).