You are used to me publishing something on this weblog every sunday (or when I am busy on Monday). Well … don't worry, I will keep that up. But las weekend was a true demolition derby, and on sunday I was fully wrecked, I just could not write sooner. And I am still recovering (and very busy with my daytime job as I will fly to Dubai on Friday for a trade show).
First of all I would like to thank all that attended and helped out at LockCon! As always it was quite the experience and we did mange to make it the best Sneek event ever. And I am already wondering what we can offer next year….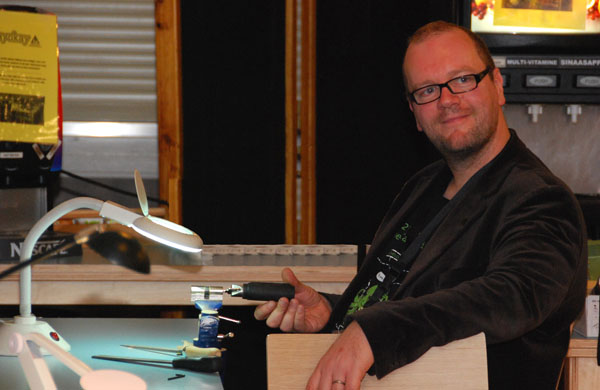 For me the ultimate LockCon experience was the impressioning championships on Saturday evening. You might remember six weeks ago I finally managed to become 'Meister' at the German games in Cologne. And now my German friends were out for revenge (in a very sporty manner). SSDeV president Steffen Wernéry prepared packages filled with fifty blanks and practice locks, and send them out to the members that could help stop the Dutch invasion. The message to the members was clear: bring back the title to Germany! On top of that he offered the SSDeV member that would beat me and my record time (5:13 minutes) a rare and beautiful watch made by Abus in the shape of a discus lock. All this caused the games in Sneek to be the one with most participants ever (around 35?). And all the big names were there trying to win the title and watch.
As I wrote before, I did not lose any sleep over all this. The sleep I lost was about the many other worries as the event needed my full attention to bring it to a happy end. So I did not get a chance to practice impressioning at all and just had to rely on my basic skills. The only thing I could do was arrange an hour orso in private just before the games to do some sort of warming up (opening a few locks).
To keep a long story short: I won again! And again it was the first time ever a 'non-German' won a locksport game in the Netherlands (yes, that is a shame ;). In 5:32 I managed to open the lock. Second was lockpick legend Arthur Meister in six minutes and a little bit. The third person was André Matuschek in little over 15 minutes something. Fourth was Dr. Manfred Bölker and fifth was Eric Schmiedl (toool.US). Please excuse me for not having the exact times and people opening the lock present, but things have been pretty hectic here and I can't find the notes I made …
What was really special is Steffen Wernéry showed the ultimate proof of true sportsmanship: He was kind enough to offer me my own bounty and gave me the Abus watch at the closing ceremonies on Sunday evening. A very nice gesture that I appreciate a lot! And since I like a little challenge, I am offering the watch myself now to the person who manages to win a game and break the speed record in one of the two 2009 impressioning games. To be continued …
And I apologize for being selfish and just write about the impressioning games for now. I will soon try to write a follow up on the unforgettable LockCon event, and report about the many presentation and Dutch Open lockpick games (Medeco locks in the finals). And Steffen Wernéry shot some spectacular video of the impressioning games. It will take him some time to edit it, but I am looking very forward to seeing and sharing it ….
But for now I just need to catch up lots of sleep ….