So … back from Las Vegas and still not fully recovered from it. The heat is overwhelming there, and recovering two jetlags in a couple of weeks is taking it's toll.
But nevertheless we had an extremely good time and learned to know a lot of people. Besides the people I already knew, the people from 'Fool' pleasantly surprised me. Very friendly, very knowledgeable, and most important: they seem to have 'the drive'. Hopefully they will make it to the Dutch Open in Sneek this year. We are currently very busy planning the Open, and next week's posting will be a long one informing you about it.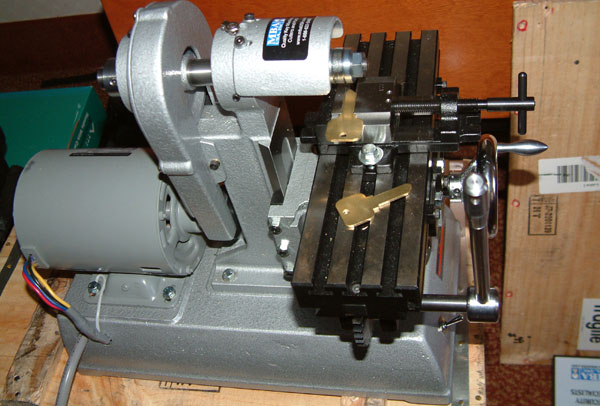 As always my suitcases were loaded to their limit when coming back. Got a lot of tools and gadgets, and a lot new blanks for my collection. But what is more important is that I now got a device to create my own blanks! I took advantage of the low dollar and purchased a 'keyway king'. It is a horizontal milling machine that comes with 16 different cutting wheels. The idea is you measure the cuts in an existing key or keyway and then try to reproduce them on an uncut key (a true blank with no grooves in it). It is also an ideal machine to cut grooves in existing blanks as some manufacturers only use a few 'basic blanks' and just take away some grooves to make them fit one specific profile.
The device is currently still in the US as it was too heavy to carry with me. And a very good friend is making modifications to this machine that will make it much more easy to use and will ship it when he is ready. Of course I will share the details on how he modified it with you when the device arrives …
Now packed my bags for a few day's Berlin. At least I will be in the same timezone now ….