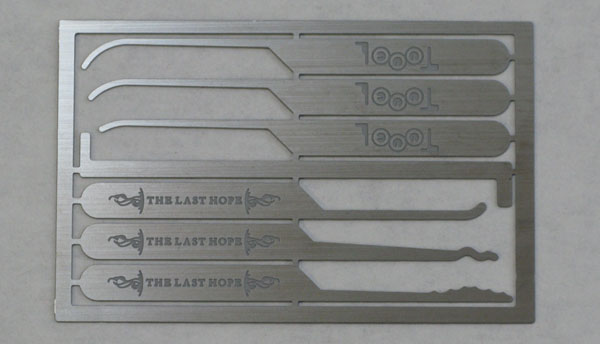 This year Toool will be presenting two picksets at the Last Hope conference in New York next week. The first pickset is the one you see above. It is a credit card sized set, and the tools can be snapped off. And already guaranteed to become a collectors item.
It is called 'the last hope' emergency pickset, and the main idea is to carry it in your wallet. You will most likely use it when you lost your keys, or when you are assisting others who lost their keys.
If you look at the back of the set, you see the edges of the set can be snapped off too, and are actually four separate tensioners. If you snap off all tools, you will end up with and eleven (!) piece pickset. As you can see, there are three basic picks, designed with the novice pickers in mind. For the real pro's there is three thin and slim hook picks. Very useful for those pesky euro profile cylinders with their zig-zag keyways….
The other Toool pickset is the new and improved 'double sided picks series'. There will be eight double sided picks in this set. For the moment I will only show you one of the picks, but you can imagine what the other seven are going to look like. Both the credit card pickset as well as the 'double sided picks' are made of is the finest steel on the market. Extremely strong and gives the right feedback for the job …

My role in getting these picksets to Hope was modest. Of course there was a lot of input from me on the shape of the picks (and some other stuff). But the main work has been done by Babak Javadi, one of the driving forces behind Toool.us at the moment. Do not underestimate the amount of work and financial investments that go into a project like this. I would also like to thank Babak's girlfriend Kari for having to put up with Babak investing so much time in this project.
A project that would not have happened without the help of two engineers from MIT who helped with the CAD. Thanks to Sam Duffley and Chris Pentacoff these picks came out the way we wanted them. A lot of work, but the end result is great. I am sure the Hope audience will love them….
* update July 16 on the source of the design.