The Hope number six conference in New York is great and it is a pitty
today is the last day.
The lockpick workshop with Marc Tobias went ok. Not the best ever (due
to bad video display) but it still went fine.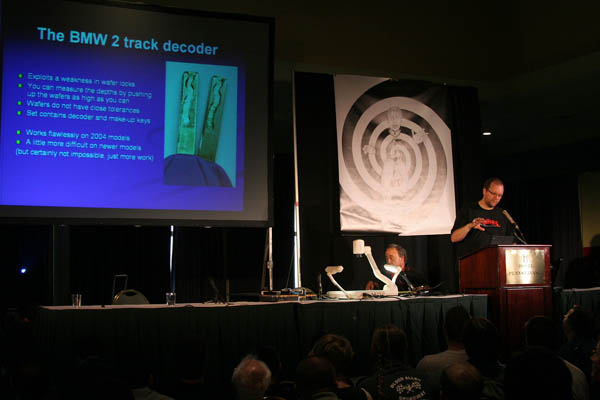 (Image by Jake Appelbaum)                       The conference deserves
a compliment for outsourcing the camera work to www.ncrsusa.com.
Trough magic these folks sell a DVD of the presentation the moment it
is finished. And for just $10. A great service. It is nice to hear the
lockpick workshop sells real well. I did not have time to visit all
the presentation I wanted to see so I bought some DVD's myself.
At hope number six there are lots of nice people who are into locks,
and there even is a complete lockpick village set up. But more about
that later.
And I wanted to share the design of our new pickset. It was made to my
specifications, and people who know me will tell you I like
hook/finger picks. The more finger shapes and sizes the better. But
you can not live without rakes for speed-opening, so I threw in a
couple of them too. And four different size tensioner ends on the
classic Toool tensioners.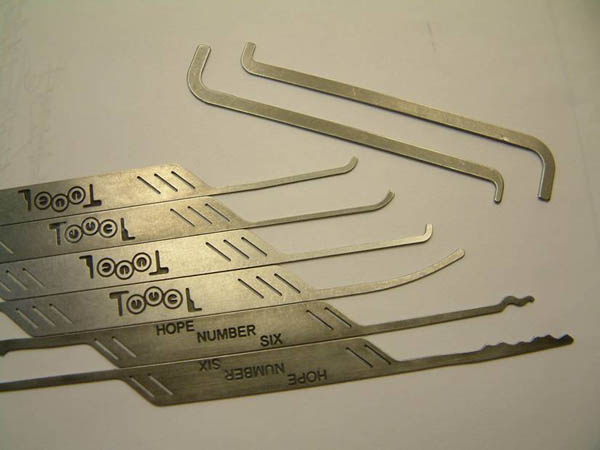 The steel if the best material I have seen so far. Thin yet very strong.
Hope vistors seem happy with it. And so am I ….