Phew … I made it … here is the Sunday Blackbag posting of the week …
I made the most of my days in Barcelona. From 09:00 to 19:00 I was behind the booth at the 3GSM show, never to return home before 01:00 from meetings with Spanish lockpickers and locksmiths.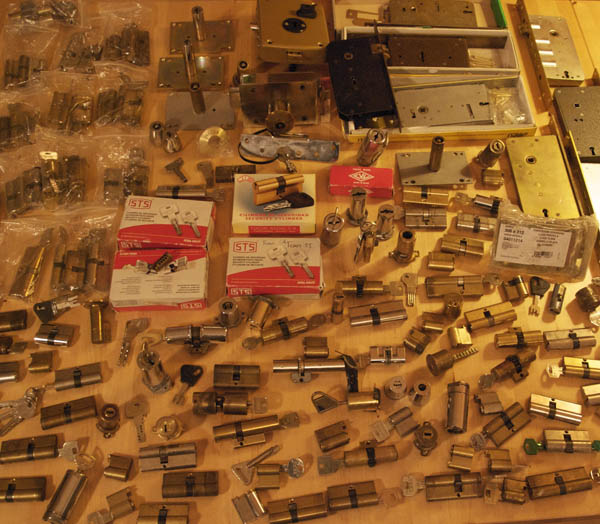 (click on image to enlarge)
Very generous people I met, as I ended up with 55 kilo's(!) of locks and blanks. Enough to keep me busy for quite some time….
Normally I would not have been able to transport all this precious metal. Luckily for me, a Dutch friend (Vincent 'Norman' Vlaming) was doing his internship at our company, and he and his father helped me out by taking kilos and kilos of locks in their luggage.
But back to Spanish locks: A high number of lever locks are in use there, as well as lots of dimple locks.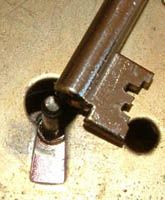 Some of the lever locks (Orenco for example) have something remarkable. The keys miss a small part at the bottom, making the lower finger of the key stick out a little. This is the part that keeps the lock under pressure. This is a cheap and simple counter measure to avoid opening the lock using a classic hobbs pick. There just is no room for the tensioner of the Hobb's pick, as a little ring deep inside the lock takes away all the space.
As it is a popular lock, of course there is a pick for it. And I got a demonstration of it. Unfortunately I did not shoot any photo's, but it is a classical Hobb's pick and … a hollow file (tube shaped). The file is inserted into the lock and the ring at the bottom of the lock is simply filed away. After removing that part, the classic Hobb's pick can be used to open the lock.
I have also seen some special and remarkable models. Take for instance this Inceca lock with it's round key. I have not tried, but people told me it can be opened relatively quickly with a sort of tubular pick.
Another special lock was the JIS, with it's two rows and nine pins.
Twenty of the most interesting Spanish locks will be used in the 2008 Toool competition. The JIS lock will be in it for sure, so we will soon know if two rows of pins make life real difficult for us lockpickers. We always shoot high quality images of the competition locks, so … stay tuned for more Spanish lock info…