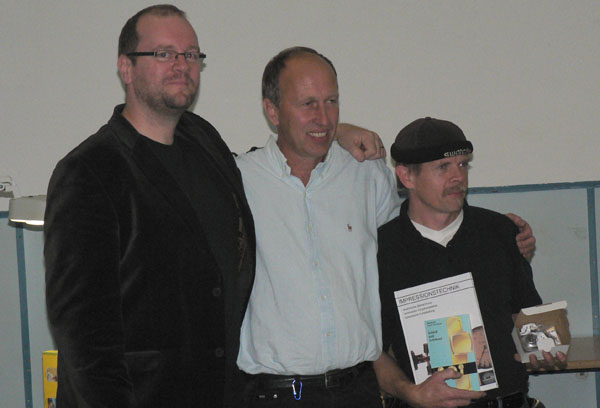 If there would be a decathlon for lockpickers, Dr. Manfred Bölker would win it for sure. Besides being one of the most skilled lockpickers on the planet, he also takes great pride in mastering all other opening techniques. But that is what it takes to become 'master of the universe'.
And last week he showed his brilliance again by winning the 2007 German lock impressioning championships in Koln. Nothing new, as he already won in 2001 and 2004, and scored a third place in 2005 and a fourth place in 2006.
This year he made a key for the Abus C83 lock trough impressioning in a devastating time of 7:15.
And in my first serious attempt to compete in this discipline I became second. It took me 25 minutes and 5 seconds to make a working key for this lock. The reason it took so long is it took me two blanks … on my first blank I went too deep on one position.
Only three out of the eighteen people that attended opened the lock this year. Julian Hardt became third in 46:03.
Below is a picture of the original key (code 8 3 6 2 7) and my impressioned key.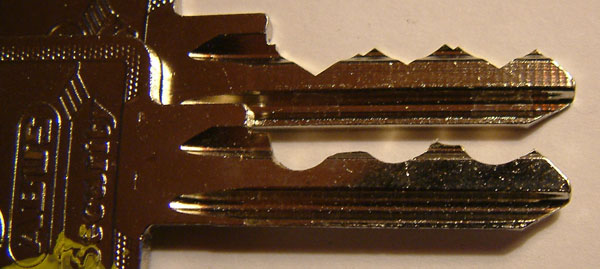 (Yellow paint on blank is a security feature to identify it is an 'original championships blank')
A little about the lock:
In previous championships the Abus C83 lock was used. This is one of the most common locks in Germany and all Ssdev members know it inside out.
This 'inside out' knowledge was of no use as Abus had other plans this year. The lock was filled with special 'black pins' (hardened?). If I understood correctly some of them were even special SKG anti manipulation pins.
And normally the first four housing pins in an Abus are mushrooms and the last one a solid one. But not in this lock. Here the second housing pin was solid while the rest were mushrooms. Not to mention the first pin being a cut eight (normally four or less?).
Abus is a clever company. They sponsor the championships by supplying free locks and blanks, and in return learn from the feedback. I must say I admire Abus for this approach!
In less then two months we will all meet again. During the Dutch Open lockpick championships we will also spend some time on an impressioning workshop and championship. And Dr. Manfred will be there too, trying to win the only trophy missing on his chimney: that of winner of the Dutch Open lockpick games ….
* Update 3/10: Julian mentioned I made a mistake, I mentioned Abus C38 instead of Abus C83. Corrected that now. Thanks Julian!