Well … it is clear I can't keep my promise of posting at least once a week. So you'd better subscribe to the RSS feed or follow me on twitter.
Just got back from a small tour trough the US. Visited three lock factories, a couple of interesting companies and met lots and lots of interesting people. And all these people had things to tell and … locks to show. As you might know I am a big fan of 'the rare russian lock', and was in the blessed circumstance to have held three different models of these masterpieces in my hand in just one day at different locations. And I managed to shoot some images of two of them.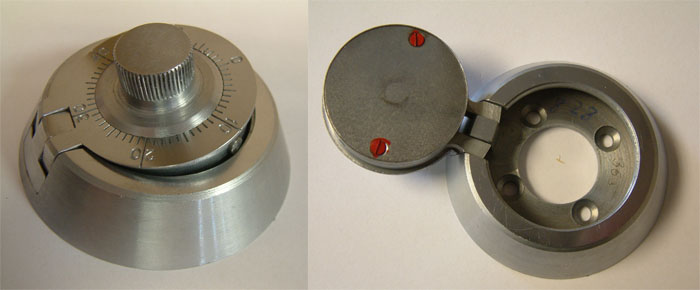 I will start first with a version that was unknown to me. It is a 'combination only', and to be honest I was in such a hurry I don't even know how many digits the code of the lock is. What is clear is that is was used for the same purpose of the other lock I covered in this blog some time ago. The idea is that the lock goes over a keyhole and a safe or door can only be opened if the correct code is dialed first. I also like the details of the hand engraved serial numbers on the back and in the inner ring of the lock, as well as side pins that lock and unlock the lock (and the red seal paint on the screws).
The other lock was already covered here once, but here is an image of the one I saw last week. So nothing new except another key as before and serial number that is just six numbers off the one we knew before….
As I am writing this blogposting, the impressioning championships in Hamburg are in progress …. curious to hear who wins! Getting life sms'es and will edit the post once the score is known …