I had noticed the site of newsparkling tools in Singapore some time ago, but have just been too busy to look into it and order anything.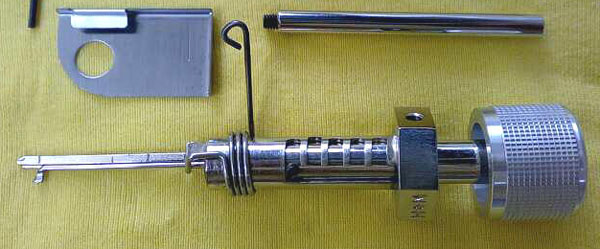 But ever since someone demonstrated me their nifty tool to open some models of Mul-T-lock locks I am going to place a big order soon!
So first of all there are picktools for mul-t-locks, but also tools to pick disc locks, cut-away locks and even a special bump-key set for dimple locks.
In other words: interesting stuff … I will keep you posted on what I order and if it is as good as it looks like.
I was very pleased to be able to play with one of their mul-t-lock picks for 30 minutes and shoot some video (youtube or quicktime 22 MB) of it. Unfortunately there were only two locks available, to test this tool on. I was told one of the locks was a brand new and certified one, the other was a cut-away model. And both could be opened relatively easy.
And I am not sure how long this tool will be effective. What I have learned about the Mul-T-lock company (and its engineers) is that they are continuously improving their product. So a trick that might work on a lock produced yesterday, will not work on a lock that is produced tomorrow. And that is the way it should be. You can not prevent people finding exploits to your locks, but you can do all you can to prevent the exploit to work on future locks.
Time will tell ….
* Update 27/09/2007: Time did tell, and fast!


Yaron from Israel wrote in the comments that the tool seems to work well 'in the field' and that already burglars have been arrested in possession of this tool. Yaron was kind enough to scan the newspaper article (in Hebrew) and translate it in English. Thanks Yaron!