Yesterday I finally collected my MacBook pro. While I am still busy installing software on it, I could not resist to try out the video editing software. First attempt can be found here (Quicktime 15 MB).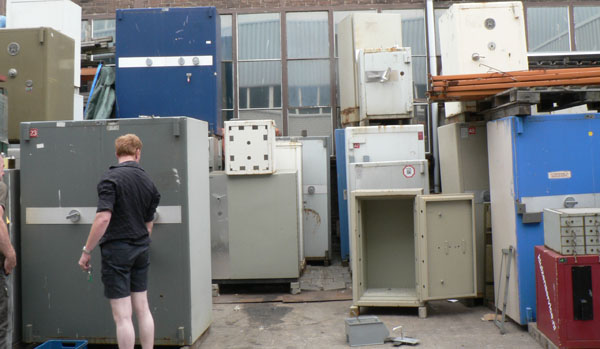 And a couple of weeks ago Paul Crouwel and Rob Zomer organized a safe cracking weekend. People from all over the globe gathered at this 'invitation only' party to share knowledge on the holy grail of safe cracking. Some pretty serious safes were cracked by the attendees (like a GJ Arnheim, Rosengrens European, LIPS VS 80, Victor (build in +- 1910) a LIPS VAGO and so on).
Paul used this weekend to try out some of his new tools. Amongst them were some strongarm hardplate drill-bits, a mini drill rig that allows you to apply perfect drill tension and an ITL2000 safe combination dialing robot.
Especially the mini drill rig and strongarm drill bits came out real well. Before they got the drill rig, a more primitive (yet effective!) method of applying pressure to a drill was used.
One other tool that was used was a thermic lance. Pretty spectacular to see (and smell) in real life. (click on image to see quicktime video 18 MB, or here for youtube)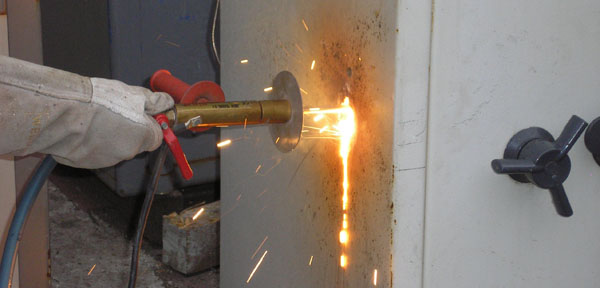 A lot of interesting discoveries were made over the weekend and we are currently working on an article for the Savta magazine to list some of them.
For us the biggest surprise was to find one of the safes still was filled with jewelry! Fortunately the owner of the safe was present and was happy to receive his goods back undamaged.
Just a few kilometers away from our party some other safe owner was much more unhappy. A jewelry shop in a black market hall was burglarized, and some extreme brute force was used. The thieves must have used a pretty hefty grinding wheel (diamond blade?) to cut a hole in the side of the safe. The sad thing was no insurance company could be found to insure the poor entrepreneur because of the location of the market. And the security guards responsible for the place received multiple alarm calls but never bothered to thoroughly investigate why the silent alarm kept going off. Very fishy if you ask me …
A news item (including Rob Zomer's expertise) can be found here (Quicktime 15 MB) or on youtube.
It is a good thing all 15 of the 'safe cracking weekend' attendees have a solid alibi…
P.s. I am curious if you think quicktime video is prefered over my old Windows Media files …