I am reading up on the assassination of Hamas leader Mahmoud al-Mabhouh with red cones. Never ever have so many operational details come out about missions like this. Twenty years ago this would have gone on file as a 'highly suspicious death', but in this day and age of CCTV camera's it did not go unnoticed. What is special this time is that a (must see) video just was released by Dubai police, and it looks like a hollywood production. The link to this blog? … since the murder took place in a hotel, I was immediately interested to read details on how they gained entry. And there still are some things unclear about it, even though this article speaks about "They entered the room using copies of keys they had somehow acquired."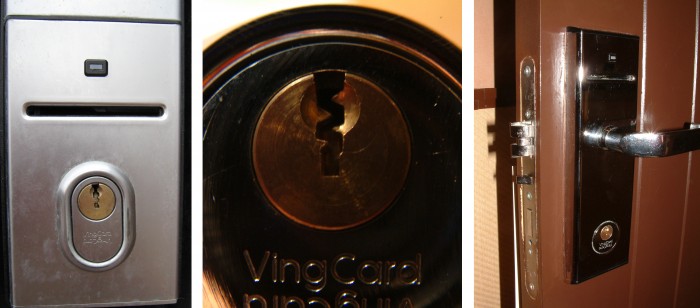 This could point to the fact a lot of electronic hotel door locks have a mechanical override. Most of the time there is a mechanical lock mounted under the handle of the door that can be opened with a master key. In some cases the lock is even hidden under a sticker or label, but in most hotels I visited there is a lock present in case the electronic lock fails (in some countries it is not legal to rely only on the electronics). I know that in some hotel locks a mechanical opening is still recorded by the electronics in the lock and will end up in the log files. To get hold of the masterkey, one could rent a room in the same hotel and simply (for an intelligence agency that is) take the mechanical lock out the door, take it apart and make the master key based on the now known pin lenght. (Or if you believe the myth, 'they' already have done all the fieldwork and collected the mechanical master keys to all important hotels in advance anyway …)
Another way to open some hotel doors would be to simply go under the door and grab the handle from the inside using a special tool. As you can see in this video, it is not so difficult. And the tool used to go under the door is even available in a 'government only' version. This version can easily been taken apart into small segments but is only sold to government agents.
And I suggest a slightly modified tool like the one on the video was used for the finishing touch of the murder. To make it look like a natural death, they locked the chain on the inside of the door …
It is all a funny coincidence as the video of the tool was just shot a couple of weeks ago when Han Fey and I did a presentation at the famous IT-Defense security congress Germany. It is a congress where we always meet lots of interesting people and always get a lot of invitations to give more presentations and/or workshops. We were originally invited to just do some hands on workshops and teach people the basic locksport/lockpicking skills, as well as a few simple opening techniques like shimming doors etc. But when some of the conference speakers missed their plane, we were asked to give an 'emergency presentation' to fill the gap. And as we do not like to give the same presentation twice, we shot some video (using a mobile phone) on the spot late at night about the door opening tool (and how to protect yourself against it) and inserted it into a compilation of existing presentations. Originally I did not intend to release the video as it shows me opening a door, but in this case I make an exception …
And for those of you who want to know more on the inner working of hotel locks, I have blogged about it before (including a video of 'how it is made')….