Mul-T-Lock's MT5 …
It promises to be a pretty secure lock. Besides having the famous 'pin
in pin' (or telescopic pin) system, there is an interactive element
in the key. This interactive element is merely a copy protection
mechanism if you ask me. The third security feature is a 'laser track'
type grove. The pins (called fingerpins) that are set with this grove
operate a sidebar. I must say it looks pretty solid.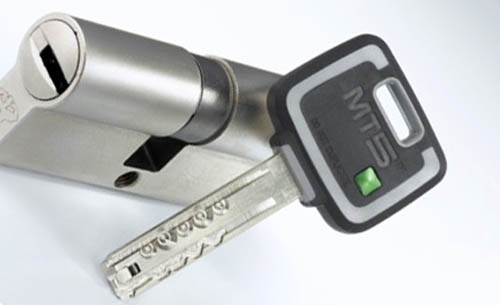 I can't wait to get my hands on two or three of these locks.
You might wonder why I want two or three locks, and not just start
with one?
The answer is simple: I am curious if all locks will have their own
individual fingerpin/sidebar code. I think and hope Mul-T-Lock is
clever enough to do this, and not make the same mistake ASSA made with
the sidebar codes on the TWIN series. If each lock will have its own
individual sidebar code it will be a tough nut to crack. Based on what
info is available on the net.
One other reason to want a couple of locks is to take one or two apart
and look at all parts individually. Sometimes technical drawings (or
even complete video animations) can be pretty unclear. Before I try to
pick a lock I always collect as much information about it as possible.
And there is no better way to understand how a lock works then fully
taking it apart and let the pins and parts run through your fingers
while examining them.
Although I must admit the video animation made by Mul-T-lock does give
you a nice impression about how the lock works.
The video can be found here (WMV 3 MB) … pretty informative if you ask me.
My pickset is itching to have a try at this lock. The name MT5 has
been released months ago, yet I am still waiting to see it available
in the shops.
More on the MT5 when it is available on the market … or do you think
they will send me some samples to review?
to be continued…