Those were my words when someone pointed me to the new and improved
website of multipick in Germany. Previously they offered a set of 10
or 12 bumpkeys. We tested these keys in our consumer reports test in
2006, and found they were of very poor quality.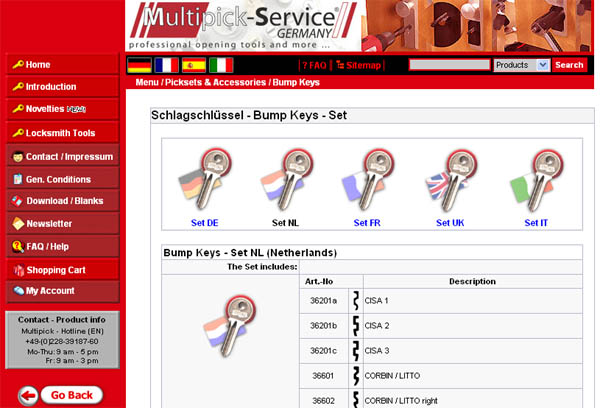 However, multipick now seems to have invested seriously in their
bumpkey division.
You can now order individual keys online, and to make things
convenient they included the images of the profiles of the keyways.
Life for criminals have never been easier … Just examine the lock
you want to open (or make a picture), compare with the profile
sketches on their website and order the correct key online.
We have not tested any of multipick's keys yet, but looking at how serious
they invested in their website I fear for the worst….
Dutch RTL just visited me to shoot some video for a TV item about this
new site and the consequences it has for security in general. It will be
aired on RTL4 around 18:15 today in a program called 'editie NL'.
(Video available now, WMV 10 Mb)