There are some problems with our server. Nothing too serious, but it causes some downtime. I hope it is fixed in the days to come.
I have a slight delay in writing about the safe opening weekend, but hopefully will complete the article in the next 24 hours orso. That is the trouble with spring: there is more in life then locks and metal 🙂
One thing I can already say: the safe opening weekend was a great success, and already lots of people asked if there will be a follow up. Well, I have good news! In just one month there will be a next safe opening weekend! The weekend of May 1-2-3 the next penetration party will take place! Again we will have around 35 serious safes, and again it will be an experience every safe technician on the planet is going to look at in envy. And there is no need for that: just register and join!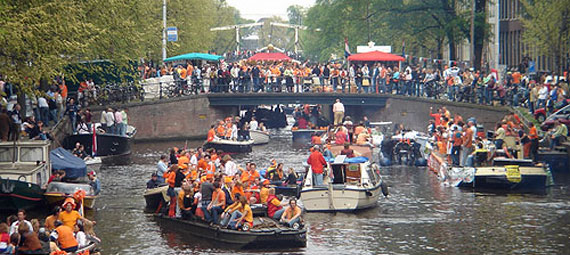 For international travelers: The day before the penetration party weekend, (April 30) is a very special day in the Netherlands. Queensday! A day you should have experienced at least once in your lifetime!
Party on! 🙂
Registration for the penetration party can be done as always at crouwel@xs4all.nl …
(wikipedia on queensday:)
Orange
This is a typical occasion for oranjegekte (orange craze), when the colour orange is a ubiquitous sight, referring to the name of the Dutch royal family, the House of Orange. There are orange banners, orange colored foods and drinks, and extreme amounts of orange clothing and creative accessories are worn as well. Sometimes even the water in fountains is dyed orange. It is not uncommon for people to impersonate the queen, not always in a flattering manner (rudely).
Freemarket
The so-called 'vrijmarkt' ('freemarket') is similar to a nationwide car boot sale or Flea market. Owing to a holiday dispensation from the Dutch government, people do not need to pay taxes on their sales. Many people set up stalls or blankets in parks, on sidewalks and even on the roads themselves (cars are banned in some streets). The items sold are traditionally old rubbish, but for commercial traders this is also an extremely profitable day. ING bank has estimated the size of the trade in 2007 at about 200 million euros, with the approximately 1.8 million sellers making 111 euros on average. The freemarket in Amsterdam attracts the most visitors.
The sign says 'overthrow the royal house', referring to the pictures of the royal family on the pile of boxes one can throw balls at
Typically, many children sell their cast-off toys and clothes while entrepreneurs sell food, beverages and almost anything else imaginable. Prices tend to be very negotiable and drop as the day progresses. By the end of the festivities, much of the unsold merchandise is left on the streets to be picked through until it's hauled off by local municipalities shortly after. In Amsterdam, the main streets in the city centre are increasingly being taken over by commercial traders, pushing the intended car boot sale out towards smaller streets and the outer ring of the centre.
There are, however, some areas where the original style is preserved. One of these is the Jordaan, a gentrified former working class neighborhood, where prices are very low because the sale is just an excuse to have a nice day and a friendly chat with complete strangers. Sections of the Jordaan can become so full of pedestrians that they become completely gridlocked, despite the absence of cars. Another is the Vondelpark, which is officially reserved for children. Especially there, but also elsewhere, there are many other activities besides selling second hand goods, such as performing music or providing other entertainment for money.
Open air concerts
In recent years, Koninginnedag has become more and more of an open-air party, with many concerts and special events in public spaces, particularly in Amsterdam, which attracts anywhere from 500,000 to 800,000 visitors. Many Dutch people living abroad try to make the pilgrimage home (with many 'clued-up' tourists) to experience this holiday each year. Booking accommodations in Amsterdam and elsewhere for Queen's Day is notoriously difficult, requiring booking 6 months or more ahead.
Queen's Night
During the preceding 'koninginnenacht' (Queen's Night) many bars and clubs throughout the Netherlands (particularly in Amsterdam and The Hague) hold special events catering to revelers that last all night long. This tradition started in the early nineties when pre-Koninginnedag riots were an increasing problem in The Hague. The idea of convincing the rioters that a celebration is a much better way to spend 'Koninginnenach' (without the 't', as it's pronounced locally), proved successful. The event draws tens of thousands of visitors every year.