It is amazing what can happen in the course of just one weekend. The list of interesting things happened in Sneek is just too long, so I am just going to highlight a few here…
"Lock Pathologist" Peter Field his presentation was very well received.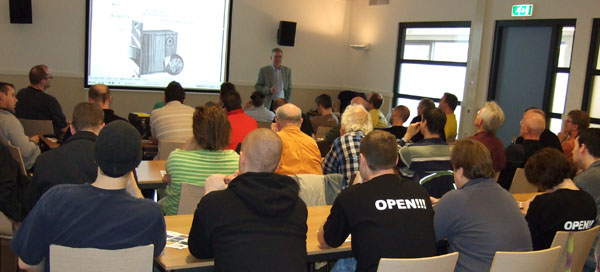 And in a weekend that is about breaking records, this presentation broke quite a few! Most obvious record: the longest presentation ever at a Dutch Open (almost 5 hours). But also it received the longest and loudest applause ever (at least 5 minutes straight!). A great contrast to another record: that of the one presentation were the audience was completely silent. All in all one of the most interesting presentations at the Dutch Open ever. Thanks again Peter!
Another great class was that of Paul Crouwel on combination lock manipulation.
Paul prepared this class with great precision and besides arranging plenty combination locks, he had some tools and charts made to make manipulation more easy. So I would not be surprised if we will have combination lock championships at the Dutch Open in the near future, as some of the attendees became very enthusiastic about opening combination locks this way. And already Paul is receiving requests from other organisations who are interested in attending his classes.
Of course there was a lot of lockpicking going on in Sneek. I have seen some exotic tools, ranging from home made Abus plus picks, to the famous sputnik to the new mul-t-lock opener and more. But what everybody was there for was the Dutch Open championship. Under strict supervision of referee Ivana Belgers (toool eindhoven), Julian Hardt managed to win the open again (just like in 2003).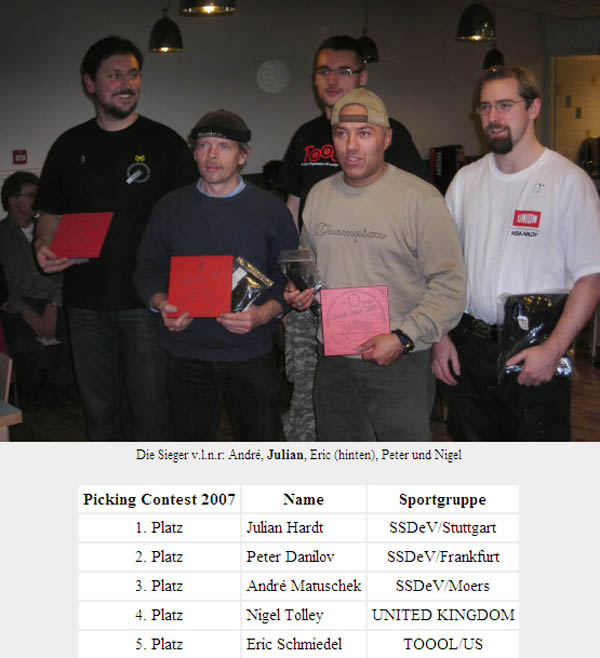 Peter Danilov became second, followed by André Matuschek. Too bad Nigel Tolley from the UK became fourth, and Eric Schmiedel of Toool USA became fifth. In total there were 42 people attending the open this year. At least half of them good enough to make it to the finals.
And then there was impressioning:
Manfred won his second impressioning championship title this year. I became second, just like two months ago in Germany.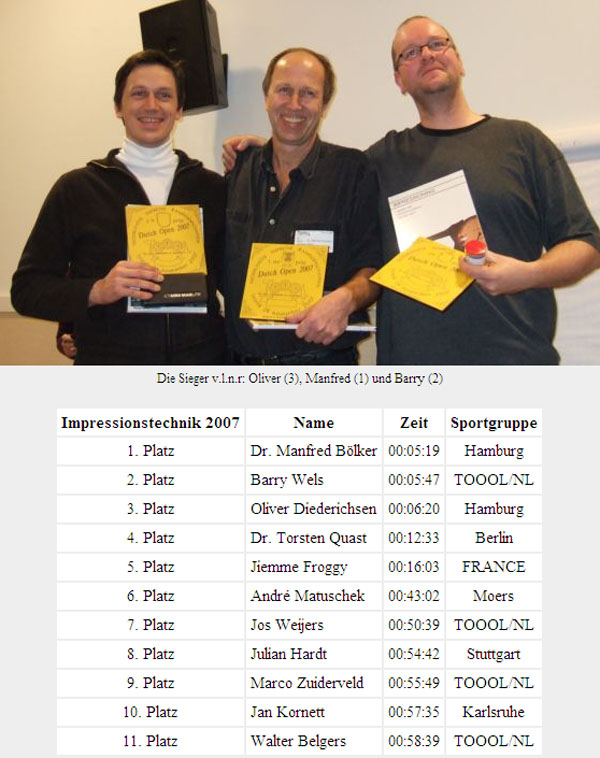 Manfred opened the lock, setting a new impressioning record of 5 minutes and 19 seconds. It took me just a lousy 28 seconds more: 5 minutes 47. Oliver Diederichsen became third in 6 minutes and 20 seconds. And some background info: there were a total of 22 attendees of which 11 managed to open the lock within the hour. Walter Belgers was last in 58 minutes and 39 seconds (just 1 minute and 21 seconds before the end of the game!). And it was fun to see many people picked up on impressioning and open a lock for the first time this way in Sneek.
The new hostel in Sneek also was a great success. Professionally run by Gea Schmidt and her staff she made everybody feel at home. A small minority was un-happy about the non-smoking policy, but besides that I heard no complaints.
Again, the list of things that happened is too long to fully mention here. Jaakko's Abus presentation, the interesting things people shared, the lack of time for some scheduled presentations …
So I would like to end here, thanking all that helped make the Dutch Open 2007 a success. The list of people to thank is also too long, as almost all attendees helped out one way or the other. Thank you all, and … see you next year!