German SSDeV member Ray is known all around the world for his impressive collection of handcuffs and his fun ways of opening most of them. On top of that he gives great presentations and always manages to add a lot of humor into them!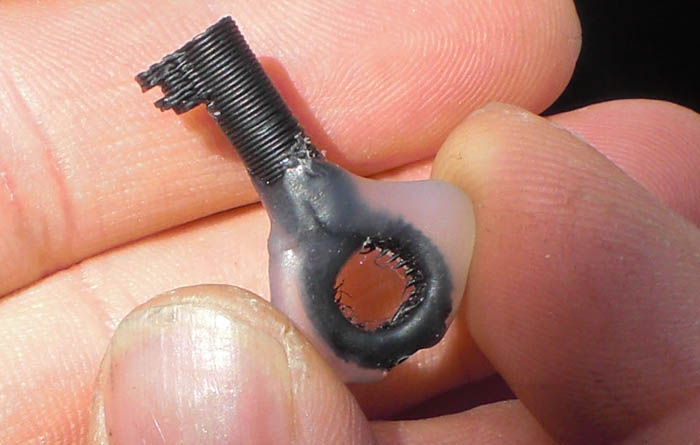 At HAR he pulled another stunt: He used a 3D printer to print handcuff keys. And not just any ordinary handcuff key … no, it's the official handcuff key from the Dutch police! At first the police officers at HAR were a little reluctant to event try out the plastic key he printed. But he found another way to verify the key he printed was the correct one. I guess these officers never thought about wearing keys concealed, especially when talking with Mr. Handcuff himself. Given the megapixel camera's on the market today it was not so difficult to verify the key he printed was the correct one.

At the end of the day he talked the officers into trying the key on their handcuffs and … it did work! At least the Dutch Police now knows there is a plastic key on the market that will open their handcuffs. A plastic key undetectable by metal detectors….
And Ray made it easy for you. For those of you wanting to print your own Dutch police handcuff key … the STL file is available online at http://ke.y.nu/
The New York Times just came out with an article on European lockpickers, quoting a Dutch Police officer who was not too negative about the lockpick scene. Lets hope they still feel this way after this post …
*Warning* Before you print out your keys please check your local law! Reading the article below (pdf mirror) should be a fair warning! In some places it is not quite healthy to run around wearing police handcuffs ….
Homeless man could get 5 years for wearing handcuff keys
Wed, Sep. 09, 2009
BY DAVID OVALLE
For wearing handcuff keys on a necklace draped around his neck, a homeless Miami Beach man could face years in prison.
Prosecutors on Tuesday formally charged Michael Gonzalez, 22, with disorderly intoxication, marijuana possession and two counts of possession of a concealed handcuff key — a third-degree felony punishable by up to five years in prison.
"It's an actual felony," prosecutor Barbara Teresa Govea explained to Miami-Dade Circuit Judge John Thornton, who questioned the charge.
"There's got to be some kind of constitutional violation in there somewhere," Assistant Public Defender Michelle Prescott grumbled to the court.
Actually, the Florida Legislature passed the law after the 1998 murders of two Tampa deputies and a state trooper. Hank Earl Carr shot and killed them after he escaped his cuffs using a universal handcuff key hidden on a necklace.
Gonzalez was arrested Aug. 16 after Miami Beach police said he was harassing women on the South Beach sand. In a report, Officer Errol Vidal wrote that he found a small amount of marijuana in the man's pocket and "two handcuff keys concealed under his shirt on a necklace."
Also under Gonzalez's shirt: a tattoo on his right shoulder, with the word "anarchy" and shooting flames.