Something strange is going on in the city of Stadskanaal (Groningen).
Police got a lot of complaints from people who had stuff stolen from
their car. The strange thing is the thieves did not damage the car or
the locks while taking out stuff. Police guesses there is a
vulnerability in the electronic opening mechanism and the burglars
somehow exploit it. The interesting fact is that many different makes
and models where opened. A journalist who just called me told me there
was a big list of brands involved, ranging from cheaper models to
Mercedes and Jaguar. Police is now investigating if there is a device
on the market that will crack the remote control codes or otherwise
opens the cars without damage ….
Of course we are all curious what this could be. Maybe it is indeed
some device that will try to guess (brute force) the right remote
control code. It could also be there is something else going on. A
weakness in the electronic system of the car that will do an
'emergency opening' if you zap the car with a cattle prod or tazer.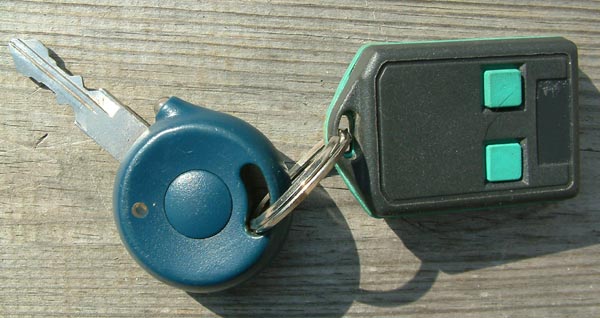 I have been an expert witness in a court case concerning a specific
car theft in The Netherlands a couple of years ago. And I did study
the subject of remote controls then. One of the things I found out was
most modern remote controls use a so called 'rolling code'. Meaning
you can not record the bits from the control and 'replay' them to the
car. The only weakness I found then is that some remote controls will
start at the beginning of the sequence when the battery is changed.
And the cars will open if the beginning of the sequence comes by. But
I am not convinced this is how the thieves gained access.
Small update: If an high-power transmitter would be used that spits
out a random bitstream at the remote control frequencies (around
433.920 Mhz) you might have a chance of accidentally opening a car.
This just would depend on the amount of correct bits needed.
Especially in an area where you would find lots of cars (like a
parking garage or big square filled with cars) you might get lucky.
Again, depending on the amount of correct bits needed to open a car.
I posted this question on nl.radio.scanners and hope a local radio
enthusiast can be found that is willing to scan the small range for
long uninterrupted digital transmissions that sound like this one
blackbag.toool.nl/images/remote-keypresses-433950mhz.wav
 
More updates: 13 september 19:10
Did you ever hear about the trick where people could open a Mercedes
with a ping-pong or tennis ball? It is an urban legend from years
ago. The complete Mercedes lock could not be manipulated with hooks
etc because it was completely shielded. In fact so sheilded it was
almost air thight. If you would smash a pingpong ball or prepared
tennis ball to the lock the air that is blown into the lock can only
escape by lifting the buttons up and unlocking the car. This is an old trick
and does not work anymore. One of my informants thinks it might still
be possible with a portable air pressure device. Currently small
compressors are one the market that can deliver 8 bar of pressure.
Maybe these locks where 'blown open'? Sounds feasible to me ….
BTW: should I create a new article when I update or do readers like it when I paste in an existing posting?
To be continued …