This is one of these topics that I wanted to write about before, but never managed because of my little break last year.
As you might know Abloy's Protec cylinder has quite a reputation as being an outstanding lock. For the moment it is very difficult to pick/manipulate (although there are rumors someone developed an opening tool). One other feature is keycontrol: it is quite difficult to have copies made if you do not have the certificate. And in case you need it for a high security installation the housing of the lock can be delivered in an extra strong steel body that is difficult to break and drill. All in all it is a very nice and secure cylinder that many people in the locksport community use on their front door 😉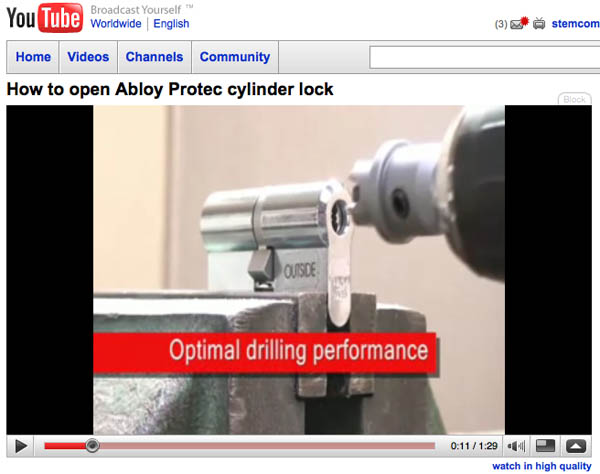 But … as always: if a product becomes 'too popular', some clever person will come up with a tool to defeat it. Unfortunately (for us lockpick tool lovers) the clever person came up with a destructive opening technique (instead of a non-destructive method).
But the method of opening the lock is extremely simple and effective (as you can see in this youtube video). In less then a minute the lock is open. Ok, it might not be completely silent, but it sure is fast! … And to make things worse: the tool even seems to work on the hardened version of the lock.
If clever tools show up on youtube, they most of the time can be ordered at Wendt ….