Companies have been offering 3D-printing services for keys for a while now. Apparently, not everybody is aware of this, so when Jos talked about this at HOPE, it caused a bit of a stir. Wired wrote an article about it that you can read at http://www.wired.com/2014/07/keyme-let-me-break-in/.
The article describes professional key duplication services. A few weeks ago, TOOOL member Tom decided to spend an afternoon to see if he could make a model of a standard key to be printed on a cheap consumer grade 3D printer. Here is the first result: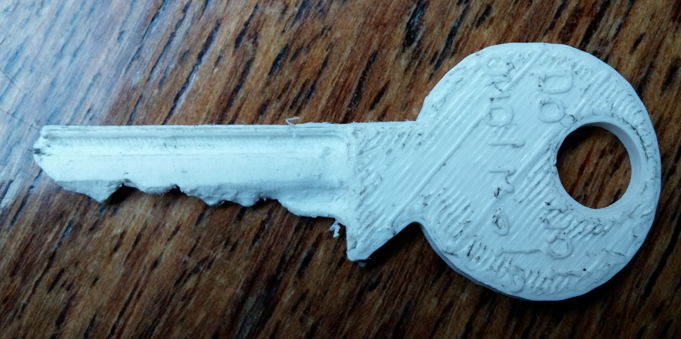 And here's a picture of two printed keys with an original. The cuts were measured and printed.

Here you see the key is working, although you can feel you have to be careful not to apply too much force.
The thing the consumer grade printer has most problems with, it first printing separate blobs of plastic that only connect to the rest of the key as the profile is being printed. This means the key had to be lightly filed after printing, to make it operate the lock.