Han and I had an extremely good time in New York, and it was nice to see the people behind the nicknames and e-mail addresses. We made some new friends….
I am currently on a campsite with the family, being connected to the net over a very thin GPRS line. So I will keep this posting short for now, and continue to play with the medecoder tool Jon was kind enough to trade me.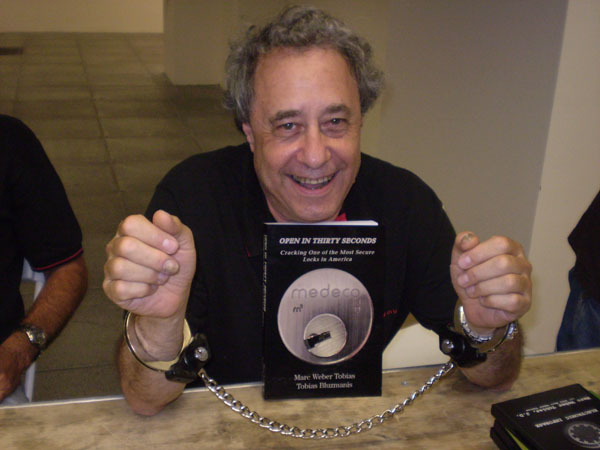 In the meantime I will share with you a picture shot by Matt Fidler. It shows Marc Tobias in high security handcuffs. What makes the handcuffs high security? They have Medeco locks on them. And no, Marc did not get out of them in 30 seconds (evil grin).
We will see Marc and Toby again in less then two weeks as 'the last Hope' was not the last visit of the good old US of A this year. Next stop for Han and me is Defcon in Las Vegas …
Back to picking locks at the campfire for now. I will try real hard to write something worthwhile on Sunday, so fingers crossed …