Wohoo … this is cool!
On Make magazine blog I read about a UK company called 'flying pig'. This company came out with a collection of locking mechanisms that can be made from cardboard. Price: just £4.99 …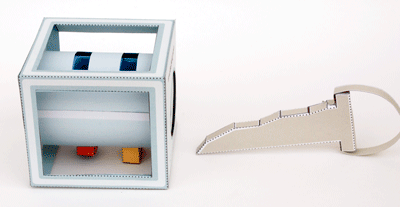 From their website:
A working Yale type lock to cut out and make. Print out the pages of this model onto thin card, follow the fully illustrated instructions and make your own working model warded lock. The download consists of one acrobat file which will take no more than a couple of minutes download. The file has four pages of illustrated instructions for the easy construction of your model and four pages which make up model sheets.
I think they mixed up 'yale type lock' with 'wafer lock', but that does not make these models less cool.
My kids will have six weeks of holiday next week, and as part of their education I am going to build these locks with them for sure …