It was all in the local news a couple of weeks ago:
Amsterdam police was using a helicopter-robot to assist in clearing squatted buildings.

In previous 'clearings' a manned helicopter (zulu 00) would assist to deliver detailed video (6MB) from up above.
But now they seem to use a much cheaper alternative: the air robot (video link).
A gadget I spotted two years ago at the security show in Essen (make sure to visit this years show!)
A police officer wearing special video glasses controls the device and supplies the ground troops with tactical video.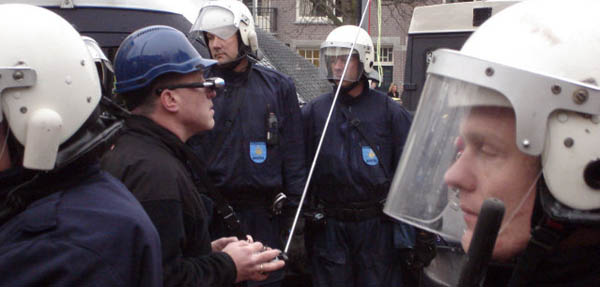 The moment I heard about it, I wondered how easy it would be to take over the remote control of this 'air robot'.
As great minds think alike, Huub Roem of Dutch 'Frequency Monitoring Center' found out they use the Multiplex ROYA Levo remote control for the air-robot.
It's a 35 Mhz standard radio remote control (35.00 to 35.22 Mhz). Easy to purchase, easy to boost output power … and easy to jam.
The air-robot is said to costs around 35.000 euro. I wonder if they have insurance on it …