Do you remember the mysterious Russian lock?
The one used by Russian Government to safeguard their (nuclear) secrets?
Over a year ago I did a posting on this special and very rare lock. I strongly encourage you to read this previous posting if you don't know what I am talking about. (Click on this link)
In the previous video (windows media 77 MB) the lock is only slightly disassembled.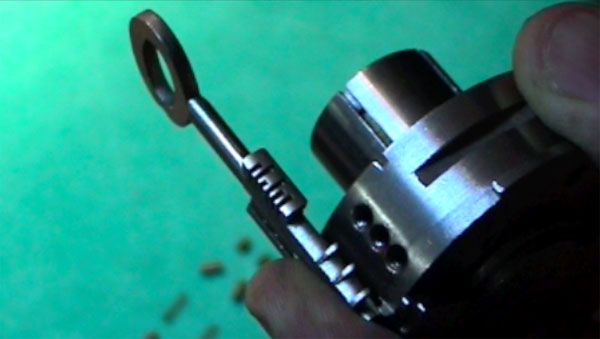 Today, safe technician Oliver Diederichsen will show you more. He will try to go all the way and fully disassemble the Russian lock to make it reveal it's secrets.
Personally I was very curious what locking mechanisms were inside.
Keep in mind, this is/was the top of the line in 'cold war' Russian lock technology, meant to keep out some of the most clever adversaries (with unlimited budgets). Someone who is not into locks probably thinks this is a boring video. For me, it comes close to viewing an autopsy on a space alien.
See the autopsy of the Russian lock in: The Russian lock part II … (9 minutes, Quicktime movie 55 MB)
More high quality images of this lock (and many other interesting things) can be found on the webpage of Eric Schmiedl (Toool.US).