In Europe lots of locksmiths use computerized key cutting machines, or
machines to make one on one copies. I am currently visiting the US and
find that most locksmiths can not live without their mechanical key
punch machine. This machine mechanically makes code cut keys instead
of one on one copies. The design of the machine is nice. It is very
easy to operate and from what I have heard and seen the device is very
accurate and fast.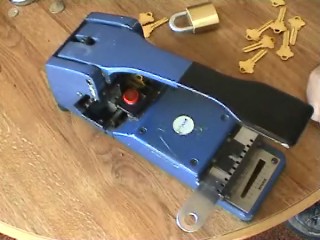 I just had to shoot some video of a friendly locksmith who was kind
enough to demonstrate his 'Blue Punch key machine' for you and me.
http://blackbag.toool.nl/video/bluepunch.wmv (5 minutes, 18 Mb)