Just returned from a week of Gitex in Dubai. Always interesting but also tiring and internet is not the same as we know it. And quite busy with a million different things … and not everything in my life is lockpick related you know …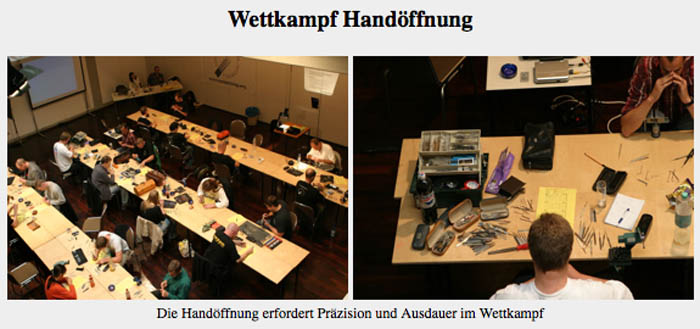 This weekend lockpicking will play a role of importance again. If you can pick locks and want to earn the last available 'free' ticket to the 2010 European Lockpick Championships in Turkey … Cologne is the place to be this weekend. Our friends of the biggest and oldest locksport organisation "Sportsfreunde der Sperrtechnik – Deutschland e.V" organize their championships in the friendly environment of the NaturFreundehaus (youth hostel) in the 'Kalk' area of Cologne. Even if you don't want to pick locks … just come and have a look. It is always a spectacular sight to see locks opened in seconds. During two days quite a lot of different games are played (as you can see on the schedule). The person winning the prestigious "Handöffnung" games (hand opening) will win a ticket to ELF/LockCon 2010!
Personally I put my money on this friendly gentleman ….
Looking forward to see you all in Cologne!