I admit, I have got a lock fetish. Especially when it concerns government or military locks.
But for readers of this blog it might even be the reason for visiting here ….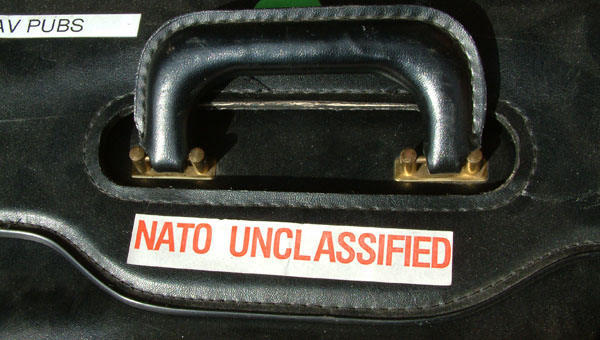 Well … Yesterday at some sort of flea market in Amsterdam I found some interesting suitcases.
Some with labels and stickers that caught my attention.
Triggers like: Nato unclassified, Nato Awacs, and various other stickers.
But the best was yet to come: some cases had locks on them, with complicated looking keyways!
So getting the cases for 10 euro each was not a problem and I immediately took them to my favorite locksmith. He studied the lock for a minute orso, and then tried a DOM blank (silca DM28)…. It was the correct blank …

On one hand I was happy he had blanks for me, on the other hand I was a little disappointed the locks were not extreme high security and had restricted profiles.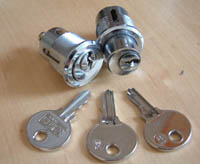 Needless to say I went home and tried to make a key for the locks via impressioning. But that was much harder as I thought as the plastic from the side of the case the lock was mounted in absorbed my movements.
So I first had to pick the small five pin locks in order to open the cases, then remove the lock and mount them in a vice.
But after that it went relatively smoothly and a correct key was made in a couple of minutes.
Now I just need to find a purpose for the damn cases …..
* Update: in the comments, Agent X is asking for more images of the cases.
Here they are, enjoy: cases1.jpg, cases2.jpg, cases3.jpg and label.jpg